She was recently seen revealed in the floating dry dock and scaffolding has been disassembled which usually precedes launching.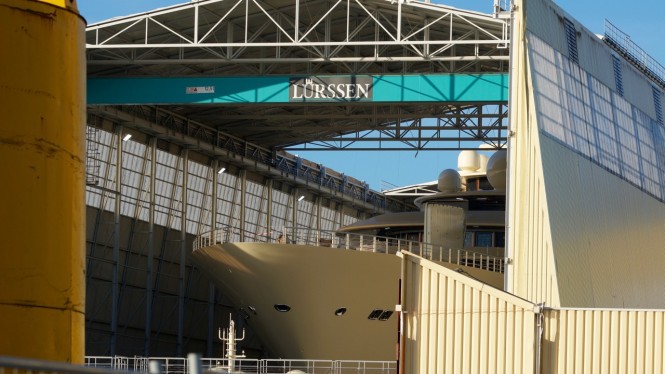 There is still alot of work to be done but Project Omar surely will launch very soon. Part of the main mast can also be seen in the foreground. This yacht caused quite a stir when she was towed to the same floating dry dock earlier in the year -around April-. Her sheer scale is insane and just to give you an idea, she will become the fourth largest superyacht on the planet once delivered to her owners in 2016.


Confidentiality is upheld to the highest degree with this yard so we will have to wait until they divulge more information on this particular build. With the roof being taken off the floating dry dock we can look forward to launching pretty soon. She has been built with a steel hull and aluminium superstructure and will naturally have ocean-crossing range. Lurssen is no stranger to building very large yachts. Just recently they delivered the 125-meter "Golden Odyssey" and still have several large builds in the works inclusive of a 120-meter due for 2017.