The
yacht
that will mark
Wider Yacht's
crowning achievement in their brief history thus far, the
Wider 150
is set to be completed by September, according to the company.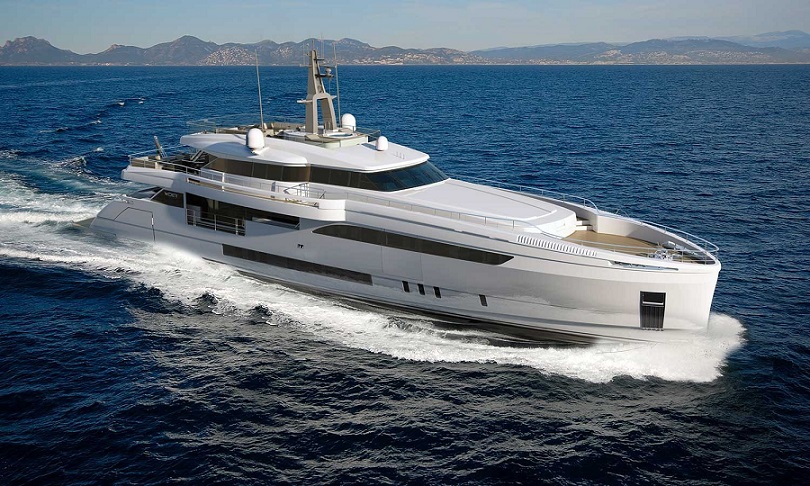 The yacht builder who is well-known for building craft that expand outside of the normal footprint through the use of fold-down doors, actuated hatches and bulwarks to transform its normal size has been working on a proper sized motoryacht called "
Genesi
".
Genesi
as the name suggests is Italian for Genesis... or the start for something new and even more special for the company. They have chosen a diesel-electric mode of operation for the new Wider 150. Also, she won't have the traditional engine room set-up either. It is actually split in two with the technical area housing the batteries on one end of the boat and a room with the gensets on the other end. Even though it is a different set-up, it affords more space for guest spaces. Okay, so how fast can she go as a diesel-electric boat? Combine all sources and 20-knots should be attainable. 13-knot cruising speed should see her attain well-over 1,100 nautical miles in range.

Staying true to the Wider concept, the Wider 150 has a number of foldout and lifting hatches and platforms that expand living onboard a tad more. More notably are the aft drop-down shells doors that reveal a nearly 1000 square-foot beach club. The highlight of the beach club is a 23-foot swimming pool. With the terraces down, there are views outside through both the port and starboard side but also aft through the aft hatch. More platforms deploy from the master stateroom located forward on the main deck allowing the owner to have cantilevered balconies when under normal circumstances they would not.
Genesi
has another rather clever hatch up her sleeve. Forward on the bow is a nice seating area 'E'-shaped (if viewed from the above on the side) in nature but only revealed and usable when hydraulic rams lift the shell skywards and that in itself becomes a shading structure. According to renderings of the yacht, there is going to be a jacuzzi on the forward sun deck (in front of the mast) while the aft is fitted with outdoor furniture designed for relaxation. We look forward to seeing this top-of-the-range yacht from Wider in action, however, she won't be their largest for that long as they have an even larger yacht in build, the Wider 165 due to peep out by mid 2016.