Following in the footsteps of the Extraordinary League lines of "
Belafonte
",
Federico Fiorentino
has sketched out yet another category-busting design; a futuristic 56-meter Expedition
Yacht
with a military overtone.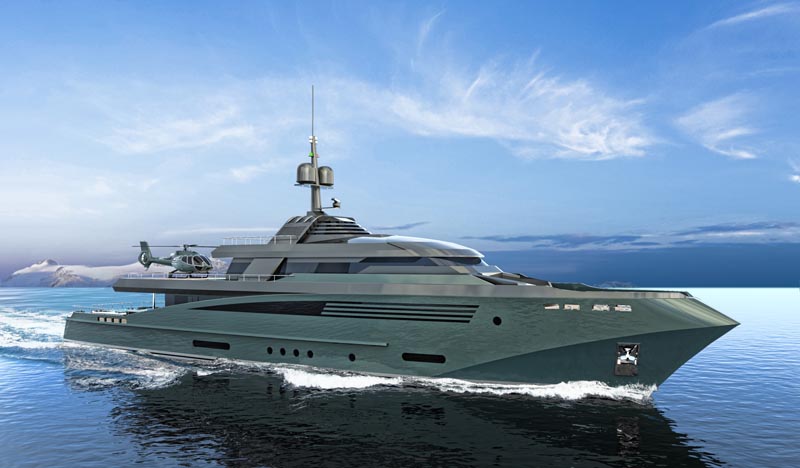 This 177-foot expedition yacht features a foam green hull and dark gray superstructure that looks more like a military cruiser than an exploration vessel. The bow is reminiscent of
Princess Mariana
(now Pegasus V) with a reversed toe-rail element that reminds us of the latest series of
Bering Yachts
. Queequeg takes its name from the South Seas chieftain in the Moby-Dick novel who leaves his island to explore the world.Much like his previous express-based
Belafonte
, Fiorentino continues in his attempt to design unique yachts with strong character.Queequeg carries this ideal forward with abrupt, sharp lines and an aggressive low profile stance that looks like a study in reducing a radar cross section. From a distance, it should easily concern those with less than benign intentions.
Queequeg will accommodate 12 guests in 6 cabins with crew accommodations for 13. The design calls for a 950-square-foot owner's suite on the upper deck that features a private rear terrace, enclosed gym and a skeet-shooting area. The 860-square-foot VIP suite on the main deck will be equally as lavish. On long passages, guests can recreate in the "virtual room," which converts to a cinema or virtual golf course or shooting range.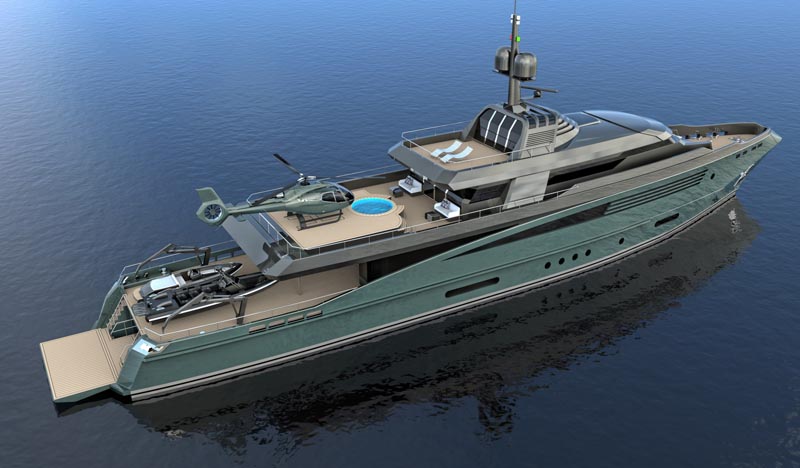 The nearly full-beam swim platform doubles as a beach club. Additionally, a 400 sq ft spa and wellness center are incorporated into this aft area. Two tenders are stored on the aft deck, easily deployed for reconnaissance missions. The wide Helideck platform with an enclosed pool on the upper deck completes the outfit of this outstanding yacht for the ultimate adventure. Queequeg could easily adopt a more efficient Diesel-Electric propulsion and pod transmissions to cut fuel consumption and emissions.