There are a few outstanding candidates for the title 'greatest living
sailor
' but in my book no one has earned it more than Loïck Peyron.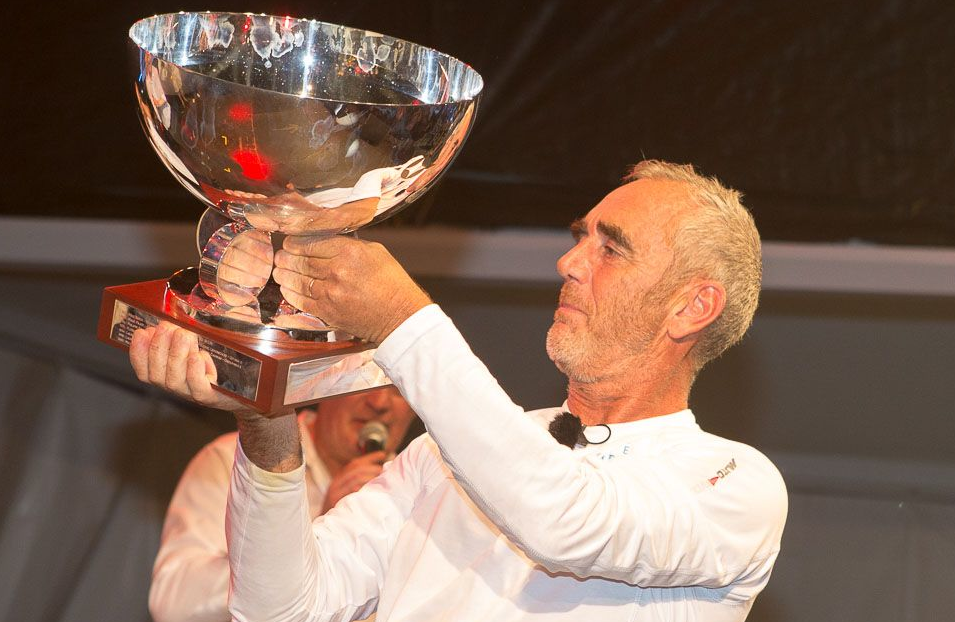 The French sailor, the ultimate all-rounder, has just won the Route du Rhum solo transatlantic race, setting a phenomenal new course record in a giant trimaran designed for crewed records and which many people thought dangerous in lone hands.And it would be, in hands other than his.The mighty
Peyron
led from the first night at
sea
and never put a foot wrong. What skill that took is something only a handful of other solo multihull sailors could possibly know. These are backbreaking vessels. One breakage and you are in trouble.The loads and gear on these big multis, aptly known in the Route du Rhum as 'les Ultimes', are so big that even dragging a sail around can exceed the physical capabilities of one person. Sudden increases in wind speed, as in squalls, are a very serious threat. In this kind of racing, sleep could actually be fatal.So winning this race is testament to his skill and endurance. Yet it is only the icing on the cake for Peyron. There is scarcely an area of offshore sailing that he has not mastered
Peyron comes from a famous sailing family. As a youngster, he was introduced to sailing by his father. In 1972, when he was aged 12, his uncle Jean-Yves Terlain took him to the launch of the giant monohull Vendredi Treize, which Terlain was to skipper in the OSTAR. From that moment Peyron on, was hooked - as were his two other brothers.
His elder brother is Bruno Peyron, famous for his Jules Verne non-stop round the world records, and his younger brother, Stéphan, is a keen windsurfer, the first person to windsurf across the
Atlantic
, and a well-known documentary filmmaker. Peyron has always raced
yachts
big and small, monos and multis. He entered his first big ocean race, the Mini Transat, in 1979, when he was just 19 and made his mark by finishing 5th.He has always been equally at home on multihulls and continued throughout his career to shuttle comfortably between both modes of sailing. His earliest big accomplishment in multis was in 1983 when, with Canadian Mike Birch, he set a then breathtaking new 24 hour speed record of 524 miles in the catamaran TAG Heuer.Peyron entered the Vendée Globe six years later in the Open 60 Lada Poch III. He completed the race to finish 2nd, but what he will be remembered for just as much was a skilled feat of seamanship in rescuing fellow competitor Philippe Poupon, who had capsized south of Cape Town. Poupon's ketch, Fleury Michon X, would not right.Peyron came to the rescue, sailing Lada Poch III to Poupon's position, attaching a line to her masthead and literally pulled the other yacht upright. Poupon, much to his credit, managed to limp to Cape Town without needing to call for any other outside assistance.During the 1990s, at the helm of the ORMA 60 trimaran Fujicolor, he won numerous races and no less than four ORMA Championship titles in 1996, 1997, 1999 and 2002. To date he has crossed the Atlantic more than 40 times, including 16 times solo.But he has had his share of disaster. In the 2002 Route du Rhum his 69ft trimaran Fujifilm broke up in a storm in Biscay and dismasted, and Peyron was rescued from the wreckage by a ship.More recently, in 2012, he notched up a particularly big win. At almost the last minute, Peyron was brought in to replace Pascal Bidégorry as skipper of the 130ft trimaran Banque Populaire V (ironically the boat he has just beaten in the Route du Rhum, now renamed Spindrift 2) and tasked with trying to break the Jules Verne Trophy for the fastest crewed non-stop circumnavigation.There was no time to change design or set up, and although Peyron could have altered Bidégorry's crew list, he decided to keep things as they were.Together they went on to slaughter this most difficult of records, taking a full two days off it and setting the bar, as it now stands, at 45 days.The self-confidence to stick with someone else's blueprint says a lot about Peyron's attitude. When I asked him about it right after the finish (he was still looking fresh as a daisy), he gave a gnomic reply."I have a way to manage and to sail that is closer to the bamboo than the oak," he said. "Bamboo is a lot stronger because it can bend in the wind, and I learned 30 years ago that it is better to be soft, everywhere."Peyron has also dipped in and out of the America's Cup. He was relief helmsman of Alinghi in the America's Cup 'deed of gift' match with BMW Oracle match in 2010 and is now intimately involved with the Artemis America's Cup campaign as helmsman and part of its design team.So Peyron has technical talent to burn, but a key part of his success is his warmth and way with people. He is an extremely charismatic man. Chirpy, irrepressibly energetic and witty, Peyron is approachable and media savvy, a nice guy as well as a sponsors' dream.Asked about his ability - and desire - to flit so easily between disciplines, Peyron has said: "I like to buzz everywhere, that's the way a solo sailor has to live." But the real reason, I think, is simply that he can. He can sail anything, and well. So why not? He's the king.