A 100-footer built for no other purpose than record breaking has been launched in the US. Wow!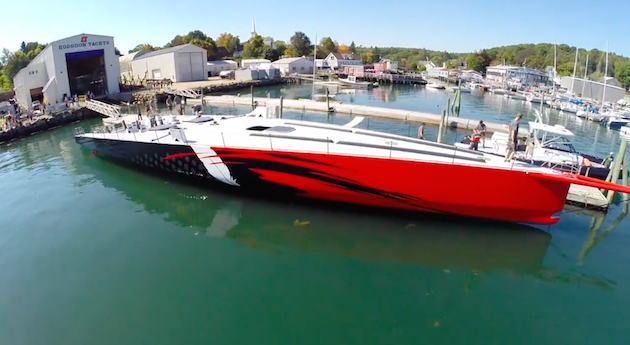 A new superfast 100ft
yacht
specially designed for record breaking has been launched in Maine for serial big yacht owner Dr Jim Clark, and is in Newport getting her keel and rig installed ready for sail trials. The
yacht
,
named Comanche, is a full-on ocean speedster. Designers VPLP and Verdier were liberated from the shackles of handicap rules and tasked with creating a yacht capable ofvpure speed to smash ocean records.
Dr Clark, the Silicon Valley magnate and founder of Netscape, has had a number of high profile yachts: the 47.4m Frers-designed sloop Hyperion in the late Nineties and the groundbreaking 90m Dykstra schooner Athena in 2004, and since 2009 Hanuman, the replica of the J-Class Endeavour II (built for around €21m and now seriously for sale at a reduced price of €11m).
Kenny Read, the former Puma Volvo 70 helmsman, has been helmsman on Hanuman and skipper/collaborator on Clark's recent projects. He has been intimately involved in the new Comanche project.
Although remaining in the US for the build by going to Hodgdon Yachts in Maine, Clark and Read looked to Europe for the design, attracted by the recent Vendée Globe successes of the VPLP and Guillaume Verdier collaboration. Between them, these teams have mastered record-breaking multihulls and IMOCA 60s.
"There's no compromise [on this boat]," says Verdier, "no interior fittings, no toilet - it's like an Open [IMOCA] 60." A challenge when reducing weight is to make sure the
boat
is also safe in all conditions. "The freeboard height is no higher than an Open 60, so the stress on deck was a big concern," admits Verdier, who is in charge of shape and structure.
Speedboat
(now Perpetual Loyal), the 100ft maxi designed by Juan Kouyoumdjian, was a benchmark for Comanche. This yacht has a similarly outrageous beam and righting moment but is lighter and less sticky. She will have, of course, a canting keel, L daggerboards and a formidable amount of sail. A bank of pedestal winches on deck will be used to power winches for record-breaking events that prohibit powered systems.
"The goal is to get the boat into all the major racers there are," Read says of the plan. These include doing the Sydney-Hobart this year, plus the Fastnet, Newport Bermuda, Transpac, and Middle Sea Race next year. Then there are straight speed events like the Transat and the 24-hour record. Read remained unsure if Comanche might one day attempt a circumnavigation.
The consistent speed promised by this boat could break new ground for a monohull. "In 90-120º true, she should do 20-26 knots, when we will be tearing sail area off as quick as we can," says Read. He compared it to a multihull with one hull, "where the apparent wind is never behind 65º."
Comanche will be crewed by some of the same pro sailors who accompanied Read aboard Puma and Hanuman, including Casey Smith (Captain/ trimmer) and Tony Mutter. But will Jim Clark actually join them? "That's weather dependent," says Read. "If we're lining up in front of a cold front to do the Transat, you probably couldn't pay him $20m to do it." but he adds that Clark and his wife, Kirsty, are both keen and competitive sailors and are normally "pushing us off the wheel to get on the helm."