They are already responsible for the design of the current largest superyacht in the world, the 590-foot "Azzam", built by Lurssen. Now, Nauta Yacht Design presents a brand new large concept to the public. The design is a 165-meter superyacht spreading over a palatial seven decks. On a platform this large, you would expect every-conceivable activity and feature onboard.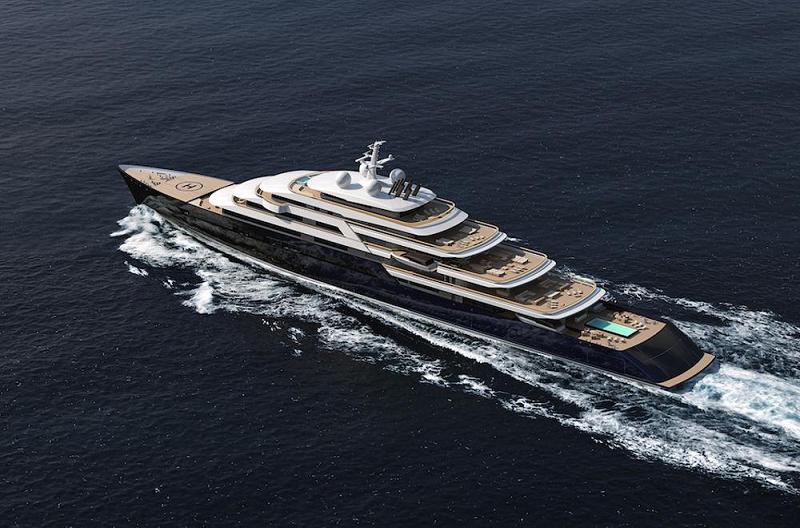 She is envisioned to be diesel-electric powered with eight generators. Top speed with the powerplant package is expected to be 20-knots and high cruise at around 18-knots as well as a 6,000 nautical mile range at a slightly more sedate 15-knots. Features include a very large main pool on the aft main deck and a secondary pool on the forward sundeck. There is a large helicopter pad on the bow, fixed in similar position to onboard yachts like Azzam and Serene. The pad also conceals a hangar below decks for the yacht's helicopter.
Five lifts traverse the piles of luxurious decks onboard with three of them to be fully-devoted to the use of guests. The other two will serve as crew lifts to connect crew spaces and non-guest areas. The fifth deck onboard this 165-meter superyacht is solely the owners playground. For starters, there is near 700 square-meter suite. It encases the relaxing sanctuary of a bedroom, gym, studio, an exclusive owner dining room and -get this- a 36 square-meter conference room to host as many as sixteen. Of course there is the copious external deck spaces that are equipped to sufficient extent with sofas and chaise lounges.
As for the other guests, there is a large 150 square-meter lobby to embrace the arrival of as many as 32. In terms of accommodation, it is anticipated that the forward-end of the main deck will host two VIP suites as well as seven VIP cabins. All yachts in this category of suite will have a private balcony. The aft end of the main deck is where alot of the activities onboard will occur. There is a wellness center and entertainment area in the transom area of the lower deck. The public Gym, Sauna, Hammam, Massage, Beauty parlor, Cinema and even a casino are planned for below deck. The 165-meter superyacht will be able to carry a submarine and a fleet of high-end tenders. Nauta Yacht design is clearly building on the experience and success with the design of Azzam and carrying forth with this new concept. Maybe a potential owner with the right tastes, need and purse will show this project some interest.