Just ahead of the 2014 Monaco Yacht Show, Columbus Yachts unveils a 70-meter superyacht with design by Studio Vafiadis. At 70-meters,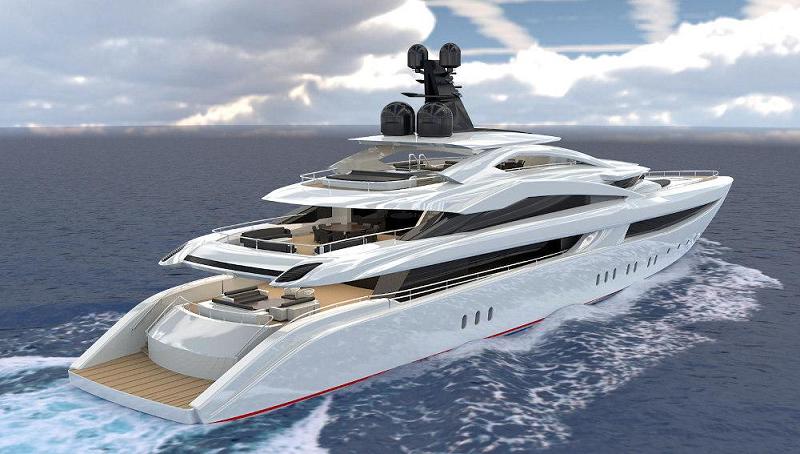 Vafiadis still maintains a rather sleek profile keeping the bulk of the yacht within three interior decks above the waterline. The sweeping long lines coerce the eye smartly around the entirety of the design. An abundance of windows are existent, however, they are sculpted, allowing for the continuity of high-end style while not restricting internal views outward and inward progression of natural light. Speaking of the interior, accommodation for guests is envisioned to be in six suites taking the double occupancy rate to twelve guests slept.
The layout, onboard this 70-meter yacht is different from the average. It called for the some of the suites to be placed on the main deck. The owner's suite is actually more normally situated at the forward end of the main deck and is fully-beamward in size. There is a VIP-type suite, perched on the upper deck. If needed, that suite is actually large enough to be turned into a second master suite. On the exterior decks of the Columbus 70-meter there is an abundance of space. Each deck is ensured to have multiple relaxation spaces whether for sitting or lounging. The aft upper deck has al-fresco dining for a minimum of ten at a round table. The sundeck is mainly sheltered thanks to a stylish hard-top. Sunbeds, pool and extra seating are all available on this deck. More information will be released on this stylish superyacht at the Monaco Yacht Show this month. You can visit Columbus Yachts/Studio Vafiadis at the show and see the full unveiling of this model on Quai des Etats-Unis, QE14.