Admiral Tecnomar announces the formal delivery of the Nadara 40-meter motoryacht "Low Profile". The triple-deck all-aluminium motoryacht features accommodation for ten guests in five cabins inclusive of a full-beam master suite. The two-toned grey paintjob runs easy of the eyes with a darker grey on the hull and a much softer/lighter grey on the superstructure.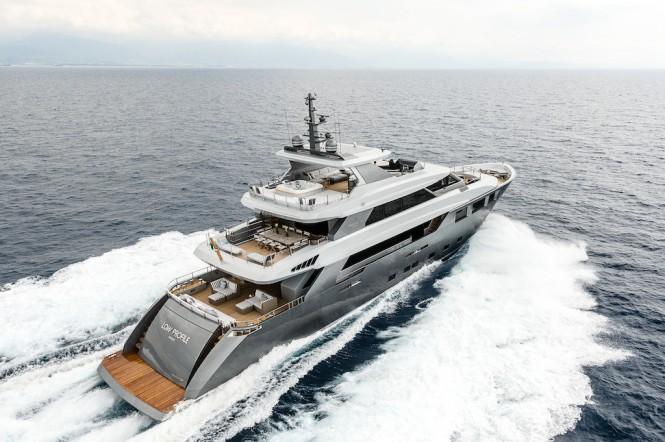 The Master Suite as said before is full-beam in nature and is situated forward on the main deck. It benefits from large rectangular windows to welcome masses of natural light to that part of the interior. The master suite is a luxurious affair, on the floor there is a precious ivory and blue carpet acts as a so-called 'tray' to the four-poster bed with tufted headboard. The master bathroom has glass wash-basins, a marble floor with inserts or accent materials like steel and diamond design and chromotherapy shower and bathtub.
There are four guest cabins onboard and they are located on the lower deck. The arrangement called for two twin bed cabins, a double, and a large VIP-type cabin with ensuite studio. All cabins feature high-quality finish headboard in different colours for each room and custom ceiling finishes with crystal inserts for a high-end appeal. On the outside, each deck especially towards the aft, has ample room to relax. The sun deck functions as a terrace allowing great views all around. There is a large jacuzzi to the aft of the sundeck flanked by sunpads. There is also a wet bar with marble and glass top and a barbecue corner, entertainment! Just because she keeps a Low Profile doesn't mean she can't sprint when called upon. Top speed is in the region of 26-knots. Look out for her in a marina near-you in the future.