Team For Design headed by Enrico Gobbi penned the lines for this modern and appealing 44-meter Explorer-styled megayacht. She is being called Poseidon and isn't simply an explorer because she can sail greater distances relatively economically she is envisioned to have an Ice-strengthened hull to allow her to explore areas where most yachts will dare not travel. She would be classed Ice Class 1B permitting her to sail in areas that possibly may have floating ice. The reinforcement is anticipated to take impact loads -relative to ice- of 55-tonnes per square meter.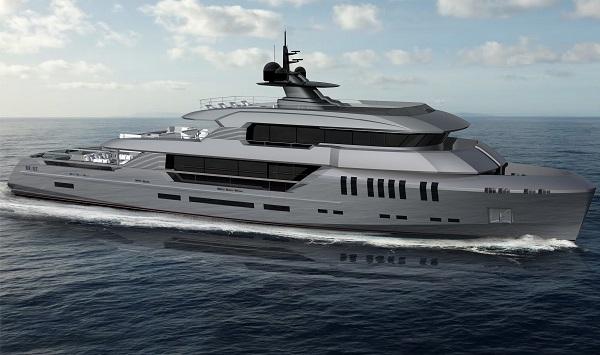 The design is really about creating the ultimate package. Having a beautiful design that is definitely utilitarian, providing comfort and utmost luxury to her guests while brandishing bravado to take on remote cruising or long-range cruising. When we say long-range, we weren't joking...try 10,000 nautical miles while sipping fuel. The design layout isn't as traditional as accustomed either. Usually you may find the master suite forward on the main deck. This time, on the
Poseidon
the owner's sanctuary is located on the upper aft deck. The dining room and gym areas take residence in the forward maindeck area characterized by multiple vertical windows.
The external areas on this yacht are very spacious particularly on the aft decks. The aft main deck area is probably the place to be where guests have plenty choices to endeavour the time in. For instance, there is the main pool, glassed on both sides and the back over the stern. It's quite sizable and has sunpads and seating just forward of it. There is dining al-fresco under the large aft overhang, capable of seating twelve. The upper aft deck has all the lounging sun furniture an owner could want just located outside of their capacious room. The interior is a hive of activity for the eyes even though it is very easy-going. Extensive use of
Wenge'
veneers sit next to
greys
and
dove
tones. Furthermore, to add to the luxurious appeal, there is the utilization or
Onyx
as accent pieces, either backlit of just plain. Team For Design has created another beautiful design and Rossi Navi are certainly able to bring it to fruition with the aid of a buyer.
For more information:
Rossi Navi
Via dei Pescatori, 56 - 55049
Viareggio
Lucca, Italy
www.rossinavi.it