Maritime Concept and Construction (MCC) is the creator of the successful Marco Polo Transocean Explorer series. The company has a futuristic vision for developing the greenest, long-range cruising yachts on the market.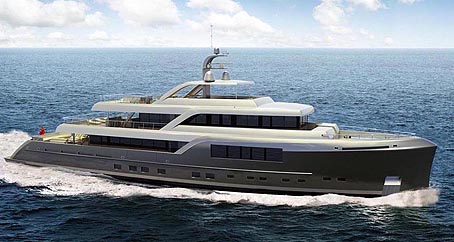 Building at the highly reputable Cheoy Lee Shipyard in China, MCC was the first company in the super yacht industry to capitalize on the single screw concept. Other top builders are following suit but have not been able to match MCC's yachts in terms of fuel efficiency and consumption. The first yacht in the 45/46-meter Marco Polo series, with naval architecture by Ron Holland Design, was conceived to be less than 500 GRT and boasts a carefully optimized hull design, allowing 35 % lower emissions than other more conventional yachts. The clever use of a Schottel bow thruster powered by its own remote engine allows a 'get home' capability of 6 knots speed. As a failsafe system in the event of fire or flood, the thruster and the primary engine reside in two separate engine rooms. This is the highest safety standard in yachting still unrivalled by any other yacht. Furthermore, the propeller is uniquely protected by the twin rudders and skegs.
The first in the Transoceanic Explorer series was called Marco Polo, after the adventuresome Venetian merchant Marco Polo (1254-1324). That yacht sold in 2011 and was renamed Dorothea III. Her new owners have used her extensively and traveled over 70,000 nautical miles —recently to Australia, Singapore and Asia—and they now have plans for summer cruising in the northern Pacific.
The second yacht in the 45/46m series, christened Mazu after the Chinese 'goddess of the sea', was sold in late 2013, and is presently voyaging with her enthusiastic owner and his family under the name Qing, which is the Chinese name for "party." This Explorer is being utilized to its fullest capacity with the owners and their kids living aboard for weeks at a time. In addition to pleasure cruising, the family enjoys operating Qing as a dive support vessel.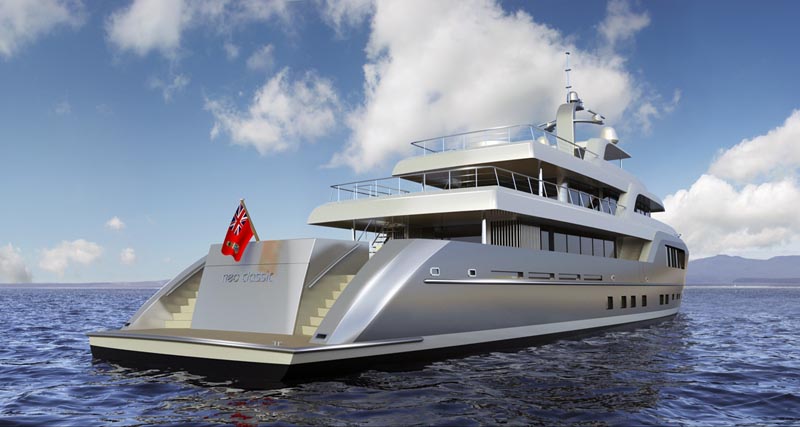 Currently, MCC has created a new 46-meter model for its Neo Classic series, which incorporates all of the technological breakthroughs and fine engineering as its Explorer series but with different exterior styling. Additionally there are complete designs and engineering plans for a 38-meter Marco Polo Explorer yacht. Also in the works is a new version of the 47-meter Marco Polo Explorer series being customized for a client to have the capability to carry a 35-foot tender with an accompanying 12,000 lb crane for handling—still within the framework of 500 GRT.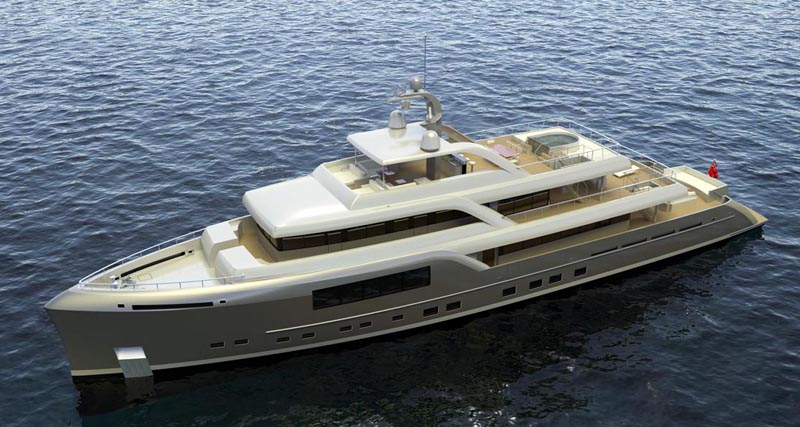 MCC is a Hong Kong-based company founded by a group of highly experienced European yacht owners and operators. MCC's founding owner is Roland Sturm, a German hotelier and real estate developer who has owned several yachts. The chief designer and naval architect for MCC is Kasia Milewska, in conjunction with with Ron Holland. Construction is supervised by MCC project manager Albrecht Buchner, a commercial ship engineer and yacht captain with extensive cruising experience.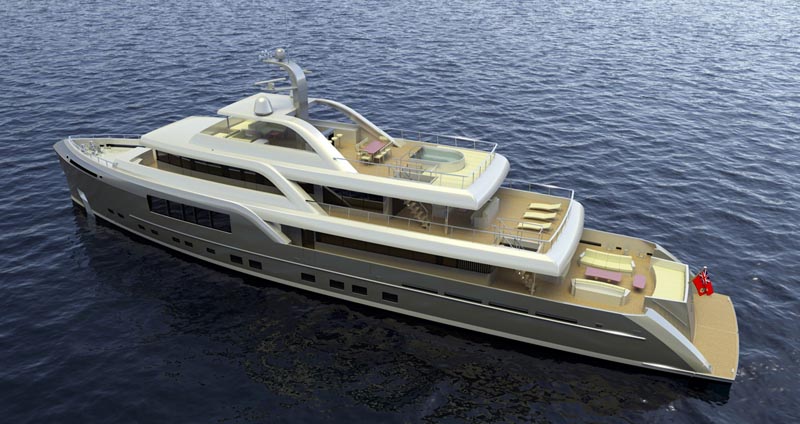 Operational Efficiency is a key design consideration on all MCC builds. A lot of attention has been given to the efficiency of the propeller. The Marco Polo Series featured a single propeller concept following the evolution of the world's most efficient commercial ships. MCC has taken full advantage of the reliability of modern marine engines and drive systems, but as a back-up, a Schottel bow thruster powered by its own remote engine allows a 'get home' capability of 6 knots. The propeller is uniquely protected by twin rudders and skegs and the stabilizers are similarly protected by oversized bilge keels.
Specifications:
Length: 46.00 m / 150.91 ft
Waterline: 45.40 m / 148.95 ft
Beam: 9.00 m / 29.52 ft
Draft: 2.30 m / 8.20 ft
Displacement: 450 T
Max speed: 16.5 kn
Range: 5600Nm @ 10kn
Fuel: 62000 L
Water: 14000 L
Engine Options: 2 x CAT C32 ACERT's or 1 x CAT 3512B & Schottel pump-jet
Bow/Stern Thruster: Naiad
Generators: 3 x Northern Lights 99 kW
Construction: Steel Hull and Composite Superstructure
Active fin stabilizers: Naiad 'Zero Speed' stabilization (4 fins)
Certification: Lloyd's Register 100A1 SSC Yacht Mono G6 UMS, MCA compliant
For more information contact:
MCC Yachts
Rooms 1002-1004, 10/F
Tung Chiu Commercial Center
193 Lockhart Road, Wanchai
Hong Kong
MCC Marco Polo