Tankoa Yachts is preparing to launch its new-build 72 metre yacht S701 Soloon August 1.
Her debut will be at Monaco Yacht Show this September.
Solo is styled inside and out by
Francesco Paszkowski and with naval architecture by Studio Ruggiero.

The S701 follows on from the 69 metre Suerte, launched in 2015, and while the lines are reminiscent, Tankoa describes S701 as a "different animal".
Key differences from Suerte
include an underwater exhaust, which has allowed the Tankoa Yachts team to create a more open main deck and sundeck. The transom area has been modified with a side staircase instead of the central staircase on
Suerte, and the hull has been fitted with longer skegs. These changes should result in a longer waterline and a higher top speed of around 17.5 knots
Accommodation on board S701 is for 12 guests split across six cabins, including an owner's deck, a VIP suite and four doubles, two of which are convertible into twins.

Key features include a main deck winter garden, a six-metre aft-deck swimming pool, and a large superyacht beach club, complete with hammam.


Tender storage is split between the foredeck and a side-loading garage, providing room for two 7.5 metre tenders, a rescue boat and a Jet Ski.

Oceanco's new 90-metre motor yacht, Project Shark
—with its modern revolutionary exterior styling by DeBasto Design and sophisticated interior design by Nuvolari Lenard— is unlike any other superyacht afloat today.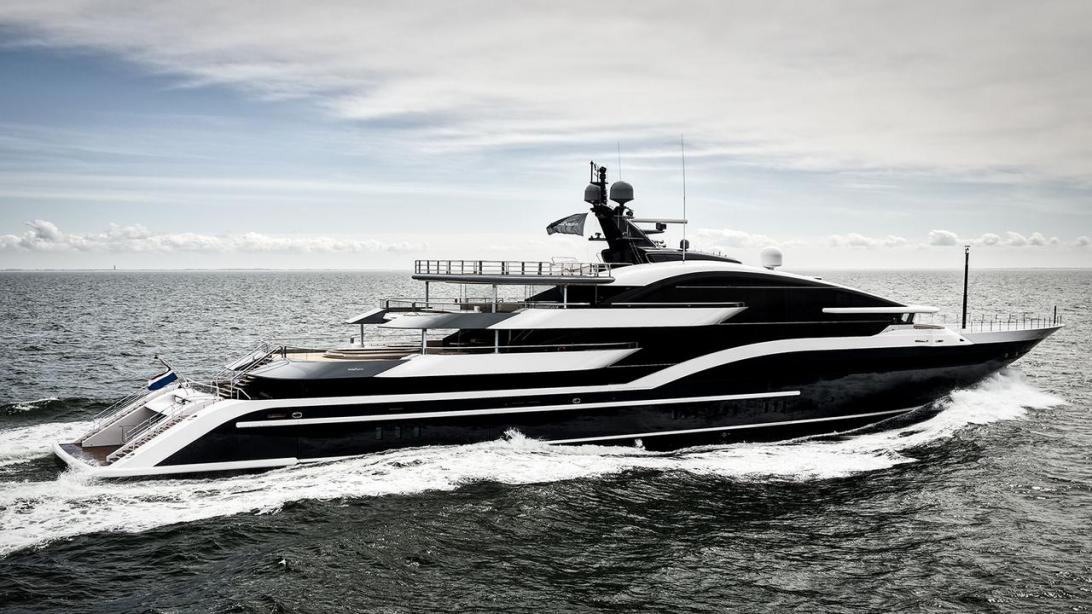 Her groundbreaking design and technological advances bear the unmistakable DNA of an Oceanco: she reflects the latest advances in glass technology and she is the first yacht in the Netherlands to be given the official Lloyd's Register Integrated Bridge System (IBS) notation and designation.
Project Shark features a superstructure completely finished in reflective glass. From the interior, the glass yields panoramic floor-to-ceiling views aft, port and starboard. Her design was conceived to maximize opportunities for outdoor living and to have direct contact with the marine environment. While the yacht yields a massive amount of volume, DeBasto has ensured that the profile remains long, sporty and lean without a top- heavy superstructure that characterizes so many very large superyachts.
"The profile has a unique sense of contrast and homogeneity between the dark glass and the white balconies, providing a constant exchange in shape and lines between the two elements," says Luiz DeBasto. "My initial drawings may have looked like a futuristic concept, yet she is now a very real yacht on account of the execution made possible by the advanced technology of the Oceanco engineering team and by the vision of her experienced owner and his team.
"
The interior was designed in concert with the exterior concept. According to Nuvolari Lenard, the owners stipulated no dark timbers preferring the delicate and sophisticated use of alternative materials and finishes such as fine fabrics, wallpaper, 3D lacquer and lots of upholstery. The interior woods include different shades of sycamore fiddleback, small details in tinted Brazilian carballo wood, and the copious use of maple bleached gray.

Sharks play a vital role in the ecosystem of the world's oceans keeping other marine life in a healthy balance. Similarly, Oceanco's Project Shark is sure to play a significant role in future yachting designs of tomorrow.