A luxury yacht for the 'high' seas? Of course, it's built in Holland! If I were to tell you that
this 49 foot yacht can cross oceans, cruise shallow waters, turn turtle, self-right, go fast and has a
hull reinforced with not one but two layers of Kevlar, you would probably ask what I've been smoking?
For the cannabis-free answer, read on...!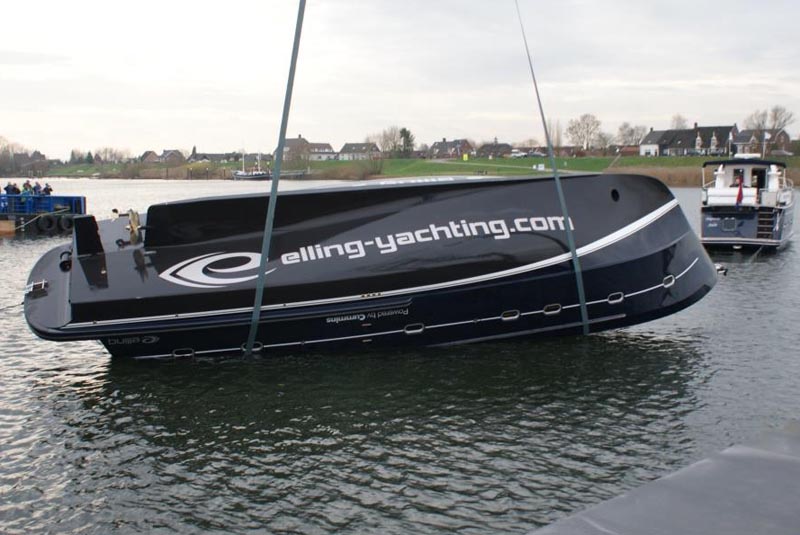 Neptunus Yachts was founded in 1972 and was one of the first boat builders using GRP material for construction. More than two thousand Neptunus powerboats ranging in size from 40 – 80 feet were built in the 40 years since. Anton van de Bos, owner of Neptune Marine Shipbuilding and Elling's founder, has a background that is an important factor in the development of the Elling in offering features not found in any other yacht lines. Anton has a Masters degree in mechanical engineering which led him to the rank of lieutenant in the engineering division during his service in the Dutch army.
After military service, Anton worked for Akzo Nobel, a Dutch based multinational chemical company that is currently one of the largest paint companies in the world and includes the production of International Paint and Awlgrip. It was at Akzo's fiber division that Anton began working on the application development of aramid fibre Twaron ® (Kevlar ®). Through visiting shipyards world-wide to find applications for this superfiber in the composite industry, Anton discovered Neptunus Yachts where he was asked to become director of the pleasure yacht division and eventually becoming a co-owner. In the late nineties the family owned business started to develop commercial boats, and a new division owned by Anton van de Bos initiated an innovative philosophy and a new production model under Neptune Marine Shipbuilding.
As an aside, albeit significant, the commercial division, Neptune Marine Service, specializes in the construction, sale, and rental of marine dredging equipment. In a joint venture with Frank Mulder, a new branch was formed called Millenium Yachts where they built M/V The World Is Not Enough, a spectacular yacht with a power plant that has 20,000 hp divided over a 10,000 hp gas turbine and two 5,000hp diesels.